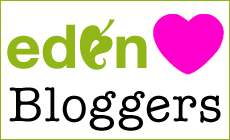 If you are a blogger who is looking for companies who offer FREE products in return for product reviews or blog posts, YOU should check out Eden Fantasys Sponsored Post program or one of their other blogger programs. They offer several different options to fit your specific needs. I have recently joined this program so be on the look out for future posts about

EdenFantasys

!
Check out these frequently asked questions:
What does this blogger program look for in a blog?- A blog that has regular updates and is at least 3 months old!
What is required of you? - YOU can post up to two posts a month about any topic you wish that pertains to Eden Fantasys. (A review of an article on their page, or thoughts on their cooks or photography club, charities they are involved with, contests they are promoting, etc.)
What do YOU get in return for your posts?-For each post you make, you earn a $25 gift card (up to 2 per month!) Gift cards CAN be stacked and CAN be used for shipping costs.
The program is very flexible and it is very easy to get started!
So far, I have had a great experience as part of this blogger program. The posts are easy to write and the staff if wonderful to work with. I'd defiantly recommend this program to other blogs!
EdenFantasys is a great company that really loves to work with bloggers. EdenFantasys is more than just an
adult toy store
so be sure to check out their site for all of the products they offer! If you are interested in joining the blogger program or if have any questions please feel free to contact them.
CLICK HERE TO LEARN MORE about the EdenFantasys Shop!
Be sure to check out their current deals plus recieve free shipping on orders over $25.

DISCLOSURE: These opinions are solely my own. I received a gift card in exchange for this post